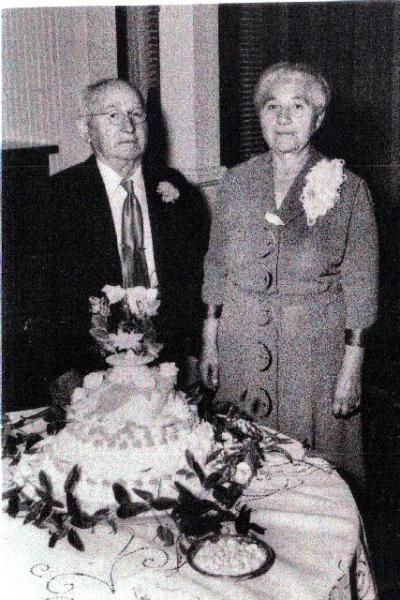 The Granitz celebrating their 50th wedding anniversary?
[Courtesy of Susan Staley Delgado-March 2011]
   The Granitz family came to Ocean Springs in the early part of the 20th Century.  Emil A. Granitz (1882-1965) was sponsored to America by Miss Idelle Watson (1856-1956+).  Miss Watson resided on Lovers Lane at Oakroyd, the former home of H.H. Germain, from 1923 until it was destroyed by fire in 1925.  Mr. Granitz worked as her man servant and gardener.(JXCO, Ms. Land Deed Bk. 58, p. 574 and Beryl G. Riviere, March 14, 2002)
   Emil A. Granitz was born in Dresden, Germany.  In April 1907, he married Helene Meinhardt (1885-1970), the daughter of Hermann Meinhardt and Alma L. Schuster and a native of Crimitschau, Germany.  They had a son, George Hermann Granitz (1909-1981) who made his livelihood at Keesler AFB as a Civil Service employee.  In 1929, George built an exact scale model of Charles Lindberg's "The Spirit of St. Louis" for the National Airplane Model Contest, which was held in Detroit in June 1929.  He received an honorable mention for his excellent work.  There were over 400 entrants.(The Jackson County Times, July 13, 1929, p. 3)
   In addition to his gardening, Emil A. Granitz worked for the United Poultry Producers and retired in 1952, while Mrs. Granitz was the custodian of the Ocean Springs Public School and also operated the cafeteria there for fourteen years.  Her food was well prepared and delicious.  With her characteristic hair in heavy braids, she often sat and knitted sweaters while observing the children playing on the school ground.(The Ocean Springs News, April 4, 1957, p. 1 and Walterine V. Redding, August 14, 2002)     
   In June 1926, Emil A. Granitz acquired the caretaker's cottage, which was built by H.L. Girot (1886-1953) for Harold I. Illing (1897-1959) and spouse, Edith Flowers Illing (1902-1984), who oversaw the Girot place before their home at present day 400 Lovers Lane was erected in 1925.  The Granitz cottage in the Cherokee Glen Subdivision was relocated to Block C-Lot 10, at present day 1107 West Cherokee. 
   The Granitz cottage in Cherokee Glen was legated to the First Presbyterian Church of Ocean Springs by George H. Granitz who never married.  He was s stalwart of this church and its organist for many years.  George and John Frederick Hoffman III (1886-1967) were the industry and inspiration which kept a small struggling Presbyterian community afloat during desperate times, a fact probably not well remembered or appreciated by this affluent church today.(JXCO, Ms. Chancery Court Cause No. 41,784, June 1982)
REFERENCES:
JXCO, Ms. Chancery Court Cause No. 41, 784, "Estate of George Hermann Granitz", June 1982.
The Jackson County Times, "Local and Personal", July 13, 1929.
The Ocean Springs News, "Granitz Couple Celebrate 50th Wedding Anniversary on Sunday", April 4, 1957.
The Ocean Springs Record, "Helene M. Granitz", December 8, 1970.