Primary tabs
Children
Roy Peter Bellande (1895-1964)
The eldest child of Peter and Alice Caillavet Bellande was a son, Roy Peter Bellande.  Roy was born at 837 Lameuse Street on September 25, 1895.  It is passed on by the family that he left school in the fifth grade to help his family survive the hardships of that time.  During WW I, Roy served in the U.S. Army as a lieutenant at Camp Pike, Arkansas, which had been established in 1917 as a training facility for the Army.  He was discharged in December 1919.(The Daily Herald, December 6, 1918, p. 3)
In Biloxi, he worked for a lumber company, but later moved to New Orleans.  In the Crescent City, he lived with his two aunts, Emma and Blanche Caillavet who lived in the French Quarter on Governor Nicholls Street.  Roy worked initially in a cigar factory, but later became a salesmanager for New South Cigar Company, a tobacco and cigar wholesaler.  On June 12, 1924, he married Thelma Giaruso (1904-2002), an attractive lady of Italian and German ancestry.  She was born at New Orleans on March 28, 1904, the daughter of Italian immigrant, James Giarruso and Anna Blumstein.  Her grandfather Blumstein was born in Alsace-Lorraine.  Thelma's  brothers, Joseph and Clarence Giarruso, have been active in politics, law enforcement, and sports for decades in New Orleans.  Thelma and Roy lived in New Orleans approximately ten years before coming to Biloxi to seek their fortune.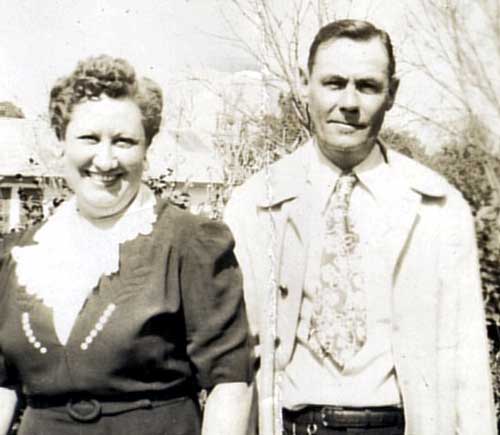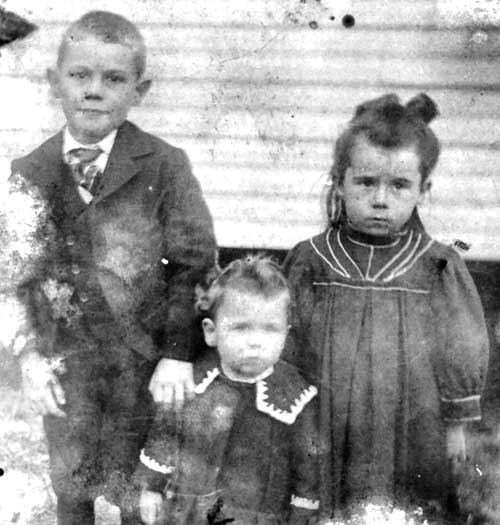 Thelma Giaruso Bellande (1904-2002) and Roy P. Bellande (1895-1964) and Roy, ?, and Faye Bellande.
[second photo water damaged by Hurricane Camille-1969]
Bellande Beverage Company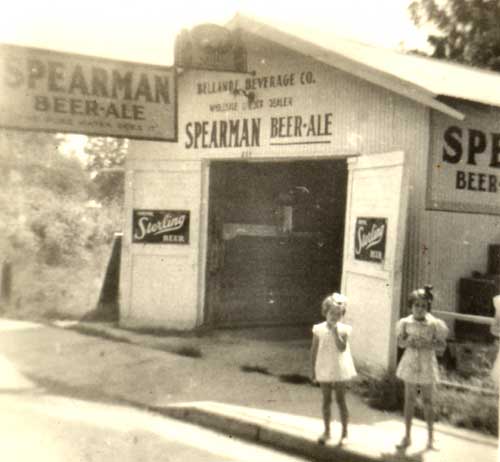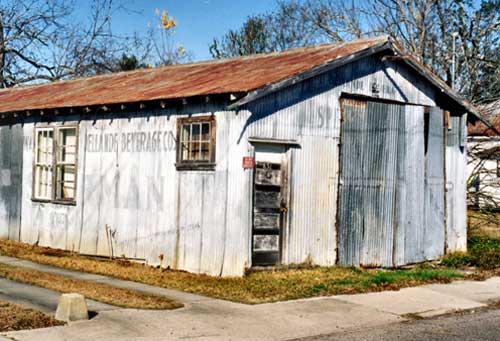 Bellande Beverage Company [circa 1939] and January 1994, 831 Lameuse Street
(The building survived Hurricane Katrina of August 29, 2005.  Young ladies are probably children of Harold and Faye Bellande Davidson.)
In 1934, after beer had become legal to sell again in Mississippi, Roy founded a company to vend malt beverages.  His first brand was probably Spearman Beer.  The business started at the corner of Reynoir and Howard Avenue.  It was located later south of the family home at 831 Lameuse Street (the tin building is extant), and moved to its permanent location on Bohn Street in the 1950s.  Younger brother, Marcel J. Bellande, joined the organization in 1938 after a brief career in professional baseball.  The Bellande Beverage Company was chartered in the State of Mississippi, on July 15, 1938, with $5000 capital and 50 shares of common stock.(The Daily Herald, August 19, 1938, p. 3)
In 1942, the Bellande Beverage Company was selling Chevy Ale and Hudepohl Beer, product brewed by the Hudepohl Brewing Company of Cincinnati, Ohio.  In time, national brands such as Falstaff, Schlitz, and Pabst were integrated into the business.  Roy and Mickey (as Marcel was called) together with their loyal wives built a very successful organization, which operated from Bay St. Louis to Moss Point and north almost to Wiggins in Stone County.  Their territory encompassed about 1300 square miles.(The Pascagoula Chronicle-Star, May 15, 1942 and June 5, 1942) 
By 1957, the Bellande Beverage Company had grown to twenty-eight employees and ten trucks.  In addition to their Biloxi facility on Bohn Street just south of the L&N Railroad, beer distribution warehouses were situated in Bay St. Louis and Pascagoula.  Mrs. Mona Hunt was secretary of the organization.(The Ocean Springs News, May 30, 1957, p. 8)
The Bellande Beverage Company was sold in May 1979, to the Afton Beverage Company of Chattanooga, Tennessee.  Afton marketed Pepsi-Cola and Seven-Up at Chattanooga.(The Daily Herald, May 10, 1979)
I was fortunate to work many summers while in college for Uncle Roy, and remember him as an individual who was quiet spoken, honest, and possessed a subtle wit.  He had great instincts in business and believed in the CIF method of doing business, i.e. Cash in Fist.  If you could obtain credit from him, you knew you were honest!  Roy Bellande enjoyed his friends at Sicurro's Lounge on Division Street, the Elks Club, and American Legion.  Although he liked to fish for perch and green trout, he had skin cancer and was limited to the extent of his outdoor activities in later life.
Organizations
During WWI, Roy P. Bellande served in the US Army as an infantryman.  He did not go to Europe to fight.  Among his memberships and offices held were: chairman of the board of trustees of the American Legion Lyman C. Bradford Post; a trustee of the Biloxi Elks; vice president of the Biloxi Fishing and Hunting Association; Mississippi Malt Beverage Association; National Beer Wholesalers; West End Volunteer Fire Company; Revelers carnival club; and the Chamber of Commerce of Biloxi, Gulfport, Pascagoula, and Ocean Springs.(The Daily Herald, January 30, 1964, p. 2)
In September 1953, he was Parade Marshall in the annual Fireman's Day Parade for the West End Fire Company.  Roy was also King of the Biloxi Mardi Gras in 1957 with Carolyn Bolton as his Queen.
Roy Peter Bellande died peacefully in his sleep on January 30, 1964, probably of heart failure.  His widow, Thelma, remained in their home at 449 Porter Avenue in Biloxi until her demise on August 2, 2002.  They had no children.  Thelma G. Bellande was ninety-eight years at the time of her passing.  She lived a full life until her late nineties when her health began to fail.  Thelma drove her motorcar until her ninety-sixth year.  Her corporal remains were interred in Southern Memorial Park Mausoleum with those of her spouse.(The Daily Herald, January 30, 1964, p. 2 and The Sun Herald, August 4, 2002, p. A-7 )
Louise Faith (Faye) Bellande (1898-1974)
Faye Bellande was born February 15, 1898, on Lameuse Street in Biloxi.  She worked for the telephone company, where she met Harold James Davidson (1894-1982).  Harold J. Davidson  was born at Biloxi, on December 28, 1894, the son of William Davidson and Margaret Ledden (1863-1925).  Mrs. Davidson was a native of New Orleans and the daughter of Jeremiah Ledden and Margaret O'Brien.  She had come to Biloxi circa 1885.  The William Davidson family resided at 514 Bohn Street.  When she expired on April 4, 1925, Mrs. Davidson was survived by four children: Alethia E. Davidson (1890-1965) married Alfred G. Brunet (1890-1948); William Sydney Davidson (1893-1941) married Viola Genevieve Comfort (1908-1999); Harold Davidson (1894-1982) m. Louise Faye Bellande (1898-1974); and Calvin Arnold "Skinny" Davidson (1901-1971) married Audrey Virginia Harrison (1912-2003).  A daughter, Olga Davidson Smith (1899-1920), had expired on January 20, 1920.      (The Daily Herald, April 6, 1925, p. 3)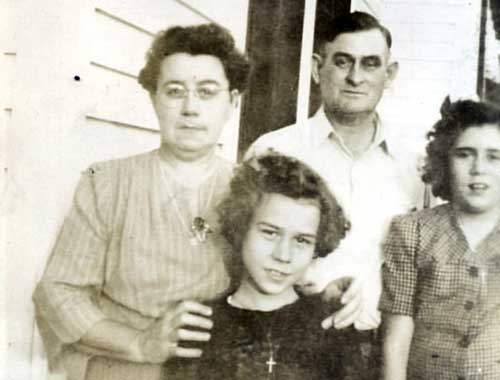 (l-r) Faye Bellande Davidson (1898-1974), Trilla Davidson,
Harold Davidson (1894-1982), Fern Davidson  (circa 1945)
Road Racing
As a young man Harold Davidson was an outstanding long distance runner.  An article in The Daily Herald of September 28, 1916, stated:
Harold Davidson, a local boy and well known amateur long distance runner, is training for a five mile race, the annual event of the Young Men's Gymnastic Club of New Orleans, to take place in that city on Thanksgiving Day.  Mr. Davidson has won two medals for his running and this time he is going in the race to try and lower the record for the south in the five-mile distance.  He captured a gold medal for coming in first in the race held by that club on Thanksgiving Day last and on March 4 of this year he received a silver medal for coming in a close second in a similar race.  Mr. Davidson stated that the present record is 28 1-8 for the five miles.  A number of excellent runners will take part in the race to be held this year and the Biloxian expects to give them a hard run for their money.  In the race run on last Thanksgiving Day he lead sixteen other entries and received a big ovation.  These events prove interesting to sportsmen in the Crescent City and are witnessed by large crowds of spectators.
Davidson also did well at New Orleans in the mid-November 1916 road race.  He placed a close second to southern champion, Willie Davis, a teammate, on the Young Men's Gymnastics Club.  Davis covered the five- mile course in twenty-six minutes and fifteen seconds besting Harold by ten seconds.  Twenty-four other runners followed them across the finish line.  Davidson planned to run in the Thanksgiving Day Race also scheduled for New Orleans.(The Daily Herald, November 20, 1916, p. 3)
In January 1917, Harold Davidson was training for a two-mile race to be held at Mobile on Mardi Gras Day.  He was to represent the Young Men's Gymnastic Club of New Orleans.  Professional road racers were expected in the Mobile event.(The Daily Herald, January 22, 1917, p. 3)
 Harold J. Davidson left Biloxi on February 25, 1918 for basic training in the U.S Army at Camp Pike, Arkansas, north of Little Rock.  It appears that most of his military service during WW I was in New Jersey.  Harold was probably discharged from the US Army in the spring of 1918.  In July 1918, he was elected vice president of the Biloxi Athletic Club replacing his brother, Arnold Davidson.(The Daily Herald, February 20, 1918 and July 14, 1920, p. 3)
In August 1919, Harold Davidson received an invitation from the Southern Amateur Athletic Union to attend to attend the Knights of Columbus track and field meet at Camp Dix, New Jersey, which was held on September 6th1919.  He was a member of the thirteen-man team from New Orleans, coached by Claude Simons.  Harold did not fair well in the New Jersey event, as his conditioning at the time was not at the level that he wanted.  He did get to visit the U.S. General Hospital No. 3 at Rahway, New Jersey where he was the chief electrician during WW I while serving in the US Army Quartermaster Corps.  Harold had won a 2.5 mile race while serving here.(The Daily Herald, August 28, 1919, p. 1, September 18, 1919, p. 3, and  January 1, 1960, p. 20)
Marriage
Faye Bellande and Harold J. Davidson married on July 18, 1927, at the Sacred Heart Catholic Church in North Biloxi.  This union produced three daughters: Mildred Davidson (1928-1940), Fern Cecilia Davidson (b. 1933), and Trilla Davidson (b. 1935).(HARCO, Ms. MRB 39, p. 391)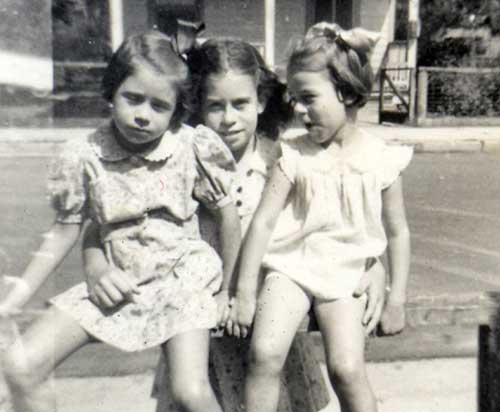 Davidson Girls
(l-r: Fern C.Davidson, Mildred L. Davidson,
and Trilla Davidson-circa 1939)
Mildred Louise Davidson (1928-1940)
Mildred Louise Davidson was born on July 29, 1928.  She attended school at St. John's, a parochial facility, near her home.  Unfortunately, Mildred was robbed of a full life, as she died in her adolescents from pneumonia on February 25, 1940.  Her funeral was attended by her classmates and the Sisters of Mercy at St. John's Catholic Church.(The Daily Herald, February 27, 1940, p. 3)
Fern Cecelia Davidson (b. 1933)
Fern Davisdon Dubaz O'Neal resides in D'Iberville, Mississippi.  She was widowed in February 1996, when her second husband, Felder Blake O'Neal (1931-1996), expired.  He was from McHenry, Stone County, Mississippi, and retired from the Baptist ministry.  Brother O'Neal had been pastor of the Tuxechena Baptist Church at Perkinston, Mississippi.(The Sun Herald, February 25, 1996, p. B-2)
Fern is divorced from George B. Dubaz (1931-1992).  George B. Dubaz was born March 15, 1931, in Biloxi.  He was the son of Luke Dubaz (1893-1985) and Inez Gable (1902-1994).  The Dubaz family, of Croatian heritage, were pioneers in the Biloxi seafood industry.  Their children were: George B. Dubaz Jr. (b. 1951), Stephen J. Dubaz (b. 1954), Brian J. Dubaz (b. 1957), Robert C. Dubaz (b. 1959), and Gary A. Dubaz (b. 1961). 
After divorcing Fern, George B. Dubaz, called Bunny, married Christine Mitchell (1937-2002), a native of Attapulgus, Georgia and widow of Jerry Britt.  He expired at Biloxi on May 5, 1992.  Buried Biloxi National Cemetery.  Christine died at Gulfport on January 21, 2002.(The Sun Herald, May 6, 1992, p.      and The Sun Herald, January 24, 2002, p. A-5)
Trilla Davidson (b. 1935)
Trilla Davidson Guthrie Ramirez Hansen lives in Larkspur, California.  She was born at Biloxi on 1935.  She was named for Trilla, Illinois, the birthplace of Alvah Clark Morgan who married Louise Caillavet, the sister of Trilla's grandmother, Alice Caillavet Bellande.  Like her sister, Fern, she is a widow and has two fine husbands, Ray Ramirez, a retired city engineer, and Phil Hansen (1945-2009), a retired tax attorney.  Ray Ramirez expired in 1995 and Phil Hansen on August 5, 2009, while recovering from surgery at Oakland, California.  Trilla is divorced from Richard Guthrie of San Francisco.  He is the father of her children: Teresa Gaye (b. 1957), Sharon (b. 1959), Geraldine (b. 1961), and Richard Guthrie Jr. (b. 1962).
Faye B. Davidson had a bout with cancer in her early fifties and it eventually took her life on April 2, 1974.  I will always remember the kindness and concern she had towards me and my family.  We spent many days at 714 Church Street playing in the yard, visiting Grandma Alice C. Bellande, and listening to the armchair philosophy of Uncle Harold Davidson. 
Harold worked his entire career in the electrical field, commencing in 1915, with the Mississippi Coast Traction Company, the predecessor of the Mississippi Power Company.  Whole with the traction company Harold belonged to the Amalgamated Association of Street Railway and Electrical Workers of America.  He left the traction company and joined the Cumberland Telephone and Telegraph Company in January 1918.  Harold retired from the Mississippi Power Company on December 31, 1959, after a twenty-three year career primarily as a "trouble shooter".(The Daily Herald, December 24, 1917, p. 1, January 14, 1918, p. 4 and January 1, 1960, p. 20)
After a long retirement from the Mississippi Power Company, Harold Davidson passed on in September 1982.  His and Faye's corporal remains were interred in the Old Biloxi Cemetery.
Aristede Clarence Bellande (1901-1976)
Aristede C. Bellande was born September 12, 1901.  He left Biloxi about 1917, moving to New Orleans were he died on August 30, 1976.  Aristede was known as Buster, and was probably named for his uncle, Aristide Caillavet (b. 1867).  He began work as an apprentice machinist, but later went into the hotel business.
Buster Bellande began his fortune in the hotel field as a bell captain in 1920, at the old St. Charles Hotel when James 'Pat' O' Shaughnessy was the manager.  In 1933, he joined the staff of the Roosevelt Hotel as room clerk.  Buster was made assistant manager of the Roosevelt in 1937, and promoted to executive assistant manager in 1941.  In 1948, he was named resident manager and then manager in 1956.  His professional associations were:  Hotel Greeters of America, New Orleans Hotel Association, New Orleans Hotel Greeters, and the Chamber of Commerce.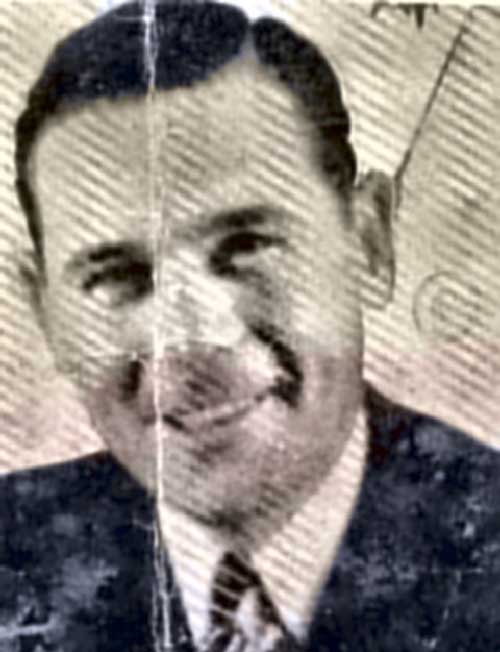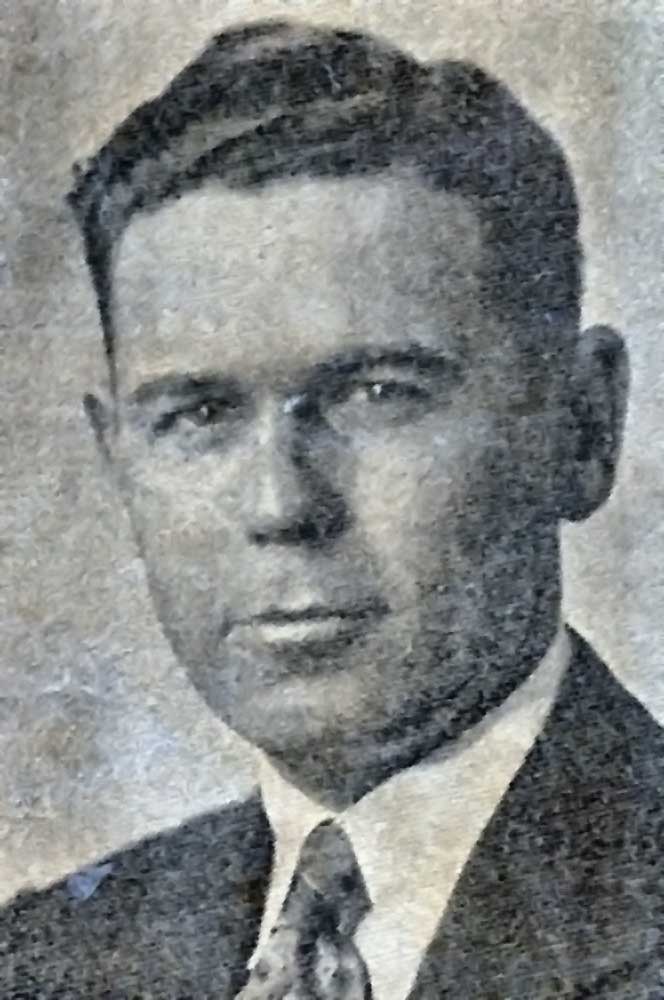 Aristede "Buster" C. Bellande
(L-R: image made circa 1930, from La-Ms. Hotel Greeters of America, p. 22;
2nd image made 1938)
Buster Bellande married Mildred Lott (1904-1980) of German ancestry in New Orleans in 1926.  Mildred was the daughter of John Lott (1860-1942) and Theresa Hornung (1861-1936).  She was the youngest of eight children and reared on Laurel Street near Annunciation in the Crescent City.  Mildred's father worked faithfully for over thirty years with the New Orleans Fire Department. Mildred's mother expired at New Orleans on November 19, 1936.  Buster's mother, Alice C. Bellande, attended Mrs. Lott's funeral.(1910 Orleans Parish, Louisiana Federal Census T624_524, p. 4B, ED 207 and The Daily Herald, November 20, 1936, p. 2)
Mildred and Buster Bellande had a daughter, Joyce Mary Bellande (b. 1928).  Joyce Mary resides in River Ridge, a New Orleans suburb, and is divorced from Al Sherlock.  Their children are: Thomas Sherlock (b. 1947), Jerome Sherlock (b. 1951), Susan (b. 1955), Peggy (b. 1956), and Holly (b. 1961).
Buster retired from the Roosevelt Hotel in 1965, when it was sold to the Fairmont chain of hotels.  After a lengthy bout with cancer, he died in the Southern Baptist Hospital in New Orleans in August 1976.  Aristide Bellande loved Biloxi and always enjoyed an annual visit to relax, visit, and fish with his Coast family.  He is buried in Bellande family plot at the Old Biloxi Cemetery.  Mildred Lott Bellande expired March 1980, and her corporal remains were interred in New Orleans.
Elliott Anthony Bellande (1904-1977)
Elliott Anthony Bellande was born August 7, 1904. He was a merchant mariner out of New Orleans until 1927. In May 1925, he and Fred Haise left Biloxi for New Orleans to contract with a ship as crewman for an Atlantic crossing. The young Biloxi seamen had just returned from a voyage to Europe and were experienced able bodied seamen./(The Daily Herald, May 1, 1925, p. 3) 
 
On August 18, 1927, Elliott Bellande married Ernestine Balius (1907-2005) in the Nativity Church at Biloxi. Ernestine was born at Biloxi on April 23, 1907, the daughter of Ernest Balius (1873-1927) and Pauline Julia Lamrock Balius (1877-1934). Ernestine came from a large family of eight brothers and three sisters: Ernest Balius Jr. (1897-1969); Edward Balius; Albert George Balius (1899-1953); Henry Balius (1902-1977); Floyd A. Balius (1904-1994); Juliet B. Broughton (1909-1996); Freddie Balius (1912-1993); Paul Balius (1914-1994); Louis Balius; Lillie Mae B. Noble (1920-1992); and Melba Balius (1924-1941). Elliott was known as Peter Bellande Jr. and Pete Bellande. He worked as an auto mechanic for Ford, the WPA during the Great Depression, and the Harrison County Board of Supervisors. From 1940-46, he was with International Harvester at Flint, Michigan. Ernestine was employed by Southern Bell for thirty-five years retired in 1972 as Night Chief Operator. Pete and Ernestine were the parents of two daughters: Margaret V. Schneider (1928-1992), and Alice J. Dubaz (b. 1931)./(The Sun Herald, May 19, 2005, p. A10)
 
Pete Bellande was a good man. He is fondly remembered by the fishermen and boaters he served well from 1953-1970, when he was Harbor Master at the Biloxi Small Craft Harbor. He was retired at the time of his death from congestive heart failure resulting from cardiovascular problems on January 12, 1977. 
 

Margaret V. Bellande (1928-1992)
Margaret Bellande married Edward Schneider, a retired Navy chief petty officer who resides at Milton, Florida. They have an adopted son, Joseph E. Schneider (b.1960). Margaret V. Schneider was a licensed practical nurse and had retired from the Biloxi Veterans Administration. She died at a Mobile hospital on August 7, 1992, from leukemia. Her remains were interred in the Biloxi City cemetery. 
 

Alice J. Bellande
Alice J. Bellande married John B. "J.B" Dubaz (1930-2006), the son of John Dubaz and Cecile Dubaz J.B. made his livelihood as a diesel mechanic in the Civil Service at KAFB. He was a U.S. Navy veteran and founde member of Our Lady of Fatima Catholic Church at Biloxi and long time volunteer. They had no children.(The Sun Herald, April 1, 2006, p. A10) 
 
Ruth Cecelia Bellande (1906-1993)
Ruth Cecelia Bellande was born on September 25, 1906.  She married Albert J. Ragusin (1904-1991) at the old St. John's Catholic Church on Bayview Avenue and Main Street in early November 1939. Father J.P. McGlade officiated in the presence of their attendants, Mildred Izard and Philip Capuana.(The Daily Herald, November 6, 1939, p. 8)
The Ragusins lived for many years at 607 Santini Street in Biloxi where Albert had a plumbing business.  As a youth, he had left school to sell newspapers to help support his family.  Albert's father, Antonio S. Ragusin (1866-1911), a Croatian immigrant, died in June 1911, at Biloxi from blood poisoning resulting from a sting ray wound. 
In 1916, Albert Ragusin, was residing with his family at 756 Reynoir Street.  He and his older brother, Tony Ragusin (1902-1997), were newsboys at the time.  Albert wrote an article about "Biloxi" that was published in December issue of The Lone Scout, a magazine for boys with a national circulation of about 150,000 readers.(The Daily Herald, January 5, 1917, p. 2)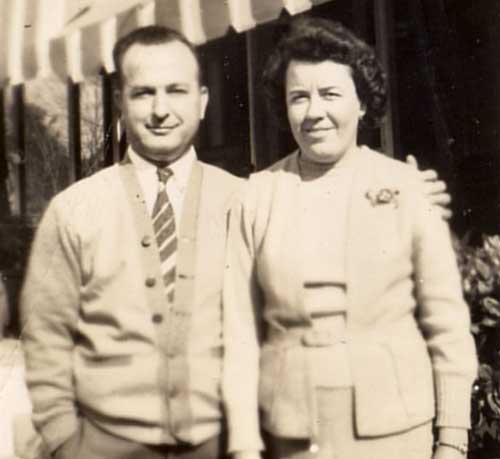 Albert J. Ragusin (1904-1991) and Ruth Bellande Ragusin (1906-1993)
(circa 1950 at 607 Santini)
Albert J. Ragusin learned to plumb at the Biloxi Plumbing & Heating Company owned by Henry L. Schwan and Charles Coquet, Sr. He commenced work for $7.50 per week.  As a journeyman plumber, he worked on the Edgewater Hotel.  Ragusin then went to Kansas City for advanced training.  He passed the Kansas City plumbing examination board.  Returning to Biloxi, Albert and Fred Demourelle Sr. commenced their own business, Demourelle & Ragusin.  Prior to the stock market crash of October 1929, Mr. Ragusin went to Chicago and Flint, Michigan.  At Flint, he worked on a large construction project.  In July 1941, he joined the Civil Service at KAFB as the chief foreman plumber for a salary of $2600 per year.  His first job was to supervise the laying of water lines to the tents.  Ragusin retired from the Civil Service circa 1973.  At this time, he held the title of Superintendent of pavements and grounds in the Civil Engineering department of the military base.(The Daily Herald, May 24, 1929, p. 9, November 6, 1939, p. 8 and  June 12, 1971, p. C-3)
In his retirement years, Albert J. Ragusin was active in yard work, wood turning, and Senior Citizens activities.  He was chosen to the Mississippi Joint State Legislative Commission and served at least two terms.  This commission represented the legislative interest of about 5000 members of AARP and the National Retired Teachers Association in Jackson, Harrison, Hancock, Stone, Pear River, George, and Greene Counties of south Mississippi.(The Ocean Springs record, November 11, 1976, p. 3)
In 1956, the Ragusins built a lovely domicile at 104 St. Charles Street on the north shore of Back Bay.  The bay front home was legated to Fern Davidson Dubaz O' Neal after the demise of Ruth Bellande Ragusin in 1993.  The Raguain-O'Neal place was heavily damaged by Hurricane Katrina in late August 2005 and demolished in the fall of 2005.
In their younger days, they traveled extensively throughout North America by automobile.  They enjoyed many visits to the Riley family in Denver, Colorado.  In recent years, the couple has made trips to Europe.  Albert fulfilled a life long ambition by visiting the Dalmatian Coast of Croatia, the birthplace of his parents.
In 1989, the Ragusins celebrated their 50th wedding anniversary at their residence with a family reunion party.  Although Ruth and Albert were childless, they have been very supportive of their close relatives through the years.  Albert J. Ragusin died October 1, 1991.  Ruth Bellande Ragusin passed on September 28, 1993.  Both are interred at the Old Biloxi Cemetery on the beach front.
Marcel Joseph Bellande (1909-1982)
Marcel Joseph Bellande was born September 24, 1909.  Mickey, as Marcel was called, succeeded in athletics and business.  At Biloxi High School in the late 1920s, he excelled in football, basketball, track, and baseball.  In mid-December 1932, Mickey graduated from Spring Hill College at Mobile with a degree in Commerce.  At Spring Hill, he had an outstanding football and baseball career.  Mickey signed to play football at Spring Hill with Earl Mattina, Burnett Mabry, and Granville 'Stag' Foster, all players from the 1926 Biloxi State Championship squad.  
This football team was crowned State gridiron champions, having tied the undefeated Sunflower County Agricultural High School from Moorehead at Greenville, Mississippi on December 6, 1926, by a score of 7-7.  The game went five quarters, although the Indians were outweighed 24-pounds per man.(The Daily Herald, December 7, 1926 and December 7, 1929, p. 2)
In June 1931, Mickey Bellande signed a professional baseball contract with the Cleveland Indian organization.  His professional baseball sojourn, primarily as a shortstop, included stints in the Three I, Middle-Atlantic, and New York-Pennsylvania Leagues.
Marcel Bellande's greater success and fame in athletics would come in the golf world.  He set a mark in Mississippi golf annals, which may never be duplicated by being the only man to win all three Mississippi amateur golf titles, i.e. State Open, State Amateur, and State Seniors.  Mickey captured seven State Senior crowns between 1964-1974, five National Four Ball Senior titles of the seven years he competed at Pinehurst, North Carolina, and claimed numerous club championships along the Mississippi Gulf Coast and New Orleans.  He was awarded numerous honors in the sporting world.  Among these honors are: induction into the Sports Hall of Fame of Spring Hill College in 1974, induction into the Mississippi Sports Hall of Fame in 1975, and also the Gulf Coast Chapter of the National Football Foundation and Hall of Fame in 1979.  Mickey Bellande was named Man of the Year in 1963 by the Biloxi Jaycees.(The Sun Herald, March 5, 1982 and The Daily Times News, January 31, 1964, p. 1)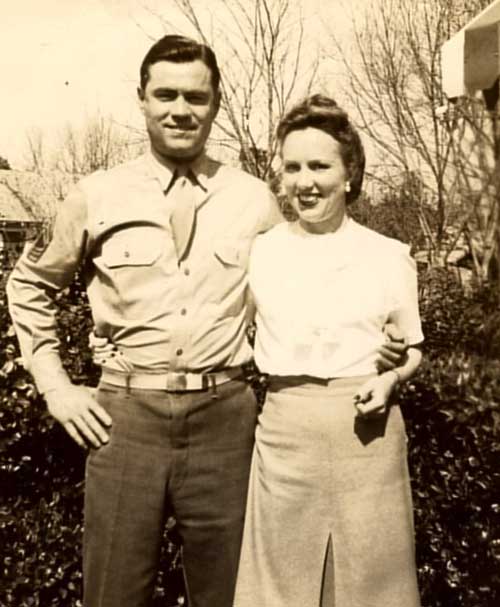 (l-r) Marcel "Mickey" Bellande (1909-1982) and Kate Fickes Bellande (1911-2006).  Circa 1944.
Marriage
On December 7, 1932, in the rectory of the St. John's Catholic Church at Biloxi, Mickey married his high school sweetheart, Katherine Ruth Ann Fickes (1911-2006), the eldest daughter of Roscoe Logan Fickes (1886-1979) and Emma Christine Hinricks (1888-1971), both Illinois natives.  Like her father, Kate was born at Matoon, Illinois, while Mrs. Fickes hailed from Tuscola, Illinois.  The Fickes Family had come to Mississippi in 1926, the result of Mr. Fickes transfer with the Southwestern Gas and Electric Company [United Gas Company-Entex-Center Point].  He began his career in the natural gas industry in 1912.  The Fickes family left Biloxi in June 1929 for Fayetteville, Arkansas, but returned in September 1930.  Kate Fickes was a 1927 graduate of Biloxi High School and attended M.S.C.W., and Arkansas State College.  The young couple started life in the Bills Apartments on Reynoir Street.  Mickey planned to resume his professional baseball career in March 1933, by reporting to spring training with the New Orleans Pelicans of the Southern League.(The Daily Herald, December 8, 1932, p. 2 and December 31, 1979, p. A2.)
Military
Mickey J. Bellande enlisted in the U.S. Army Air Corps on October 24, 1942 at Camp Shelby, Mississippi.  He served in England during WW II.
Daughter
A daughter, Kay Ruth Bellande, was born at Biloxi on August 5, 1946.  Kay married James "Jim" Ray Foster Jr. (b. 1946) at the Nativity of the Blessed Virgin Mary Roman Catholic Church at Biloxi on December 21, 1974.  He is the son of Dr. J. Ray Foster (1917-2002) and Jane Allen Strickland.  Kay and Jim lived in Michigan and Florida were Jim made his livelihood in hospital administration.  They are the parents of twin sons, Brad Foster (b. 1980) and J. Brian Foster (b. 1980).  The Fosters returned to Biloxi in 2003. 
Margaret Fickes Foster (1919-2009), Jim's stepmother and Kay's aunt, passed on March 31, 2009 at Biloxi.(The Sun Herald, April 2, 2009, p. A4)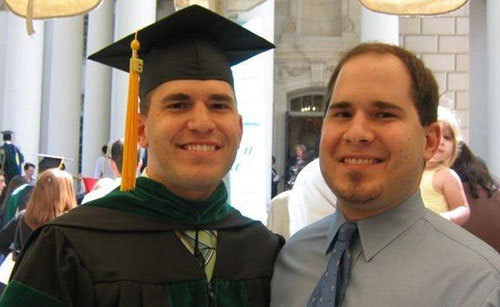 l-r: Dr. J. Brian Foster and Brad Foster
In May 2005, J. Brian Foster, a University of Florida alumnus, received his medical degree from the Emory University School of Medicine at Atlanta, Georgia.  He planned to pursue a residency in ophthalmology at the Wake Forest University School of Medicine at Winston-Salem, North Carolina.(The Sun Herald, May 29, 2006, p. A11)
Residences
In December 1937, Mickey and Kaye moved into a new house on the southwest corner of Hopkins and Division Street at Biloxi.  It was a five-room bungalow situated on a lot 60 feet by 100 feet.  The Division Street property was purchased from the Metropolitan Life Insurance Company through local realtors, Perkins & Fayard.(The Daily Herald, December 4, 1937, p. 6)
In August 1959, Mickey and Kate Bellande acquired for $9,000 cash, the vacation home of Urban B. Koen and Patricia Koen at 226 Kensington Drive, east of KAFB, on the Back Bay at Biloxi.  The Koens were residents of New Orleans.  Their residence was situated on a .35 acre parcel designated as Lot 11-Square 1 of the Oak Park Subdivision.(HARCO, Ms. Land Deed Bk. 453, p. 35) 
Livelihood
In 1938, Mickey Bellande joined his brother, Roy, in the beer distributing business in Biloxi.  He retired upon its sale in 1979.  Mickey was always in top physical condition as he led an active athletic life style.  He was capable of hooking a large game fish or shooting sub par golf at the occasion of his untimely death from brain cancer on March 5, 1982.  His corporal remains were interred at the Southern Memorial Park cemetery in Biloxi.  Kate Bellande expired at Biloxi on October 6, 2006.  Her corporal remains rest eternally next to Marcel's at the Southern Memorial Park cemetery.(The Sun Herald, March 5, 1982 and October 9, 2006, p. A4)
Alton Louis Bellande (1912-1970)
Alton Louis Bellande was born January 22, 1912.  He was a salesman for his entire business career.  It was while traveling in Louisiana for Wrigley that he met Hazel Bonnette (b. 1912) in a Shreveport drugstore.  She was born at Charenton, Louisiana on October 2, 1912.  Her parents were Filbert Bonnette (1890-1967) of Plaucheville, Louisiana and Marie Mathilde Champagne (1888-1971), a native of Youngsville, Louisiana.  They were married in 1942.  Alton served in the United States Coast Guard from August 1942 to September 1945.  Most of his active duty military time was spent in Algiers, Louisiana loading munitions ships during World War II.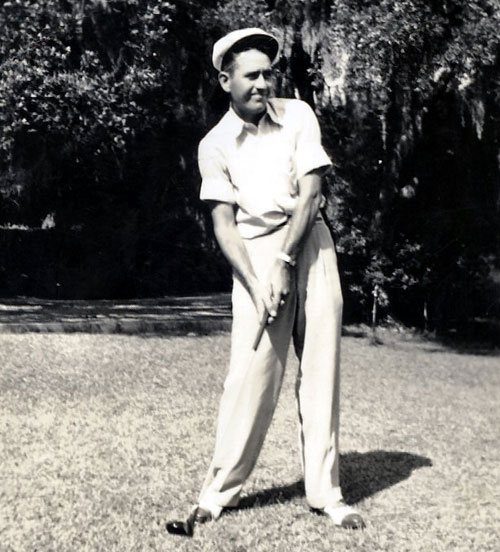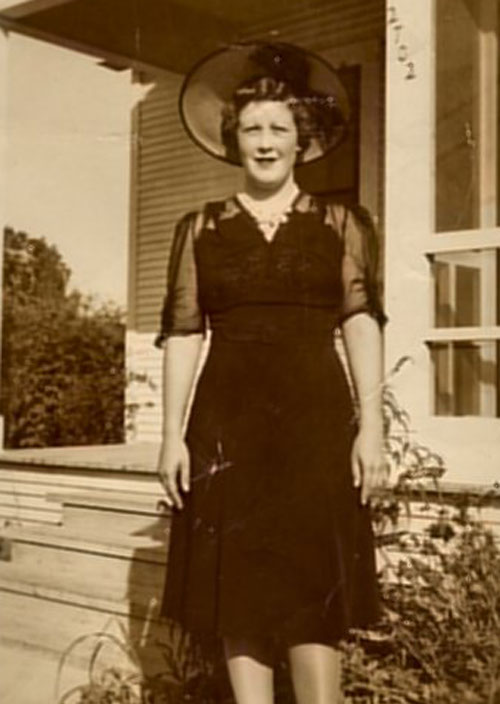 Alton L. Bellande (1912-1970) and Hazel Mary Bonnette Bellande (1912-2002)
Alton and Hazel had five children: Ray Louis Bellande (b. 1943), Mickey John Bellande (b. 1944), Betty Ann Bellande (b. 1946), Bruce James Bellande (b. 1947), and Roy Anthony Bellande (b. 1949).  Ray is divorced from Elizabeth Wynne of Lafayette, Louisiana, and has no children.  Mickey resides in Biloxi and is divorced from Sonia Carol Wilkes Hodges (b. 1947), a native of Hattiesburg, Mississippi.  They have a son, M. J. Bellande Jr. (b. 1980).  On September 28, 2002, Sonia married James Alred Sheffield (b. 1931), a retired physician.  In August 1969, Betty married Judge Larry Wilson of of Winona, Mississippi.  She lives in Biloxi with her husband William Toland, and they are childless.  Bruce is domiciled in Carmel, Indiana and has two children: Mary Elizabeth 'Betsy' Bellande (b. 1982) m. Austin Blake Edwards on March 7, 2009 at Little Rock, Arkansas; and Christopher Bruce Bellande (b. 1985).  His wife, Mary Elizabeth Bryant (b. 1949) is a native of Oxford, Mississippi.  Roy is divorced from Daisy Dianne Davis (b. 1953), who is now married to Kenneth Riley Wells (b. 1940).  Roy is now married to Nancy Elizabeth Arthur and resides at Silva, Missouri.  His children are Alton Jason Bellande (b. 1974) and Hazel Marie Bellande (b. 1978) divorced from Richard V. Savage and Mr. Parker.  Hazel Marie has Corbin Zane Bellande (b. 1997), a son, with Rinichiro Larry Burdick, the son of Mr. Burdick and Tomiko Ohi Burdick (1937-2010) of Gulfport, Mississippi.
After World War II, Alton joined the Fuller Brush Company as a door-to-door salesman.  He is described in an article titled "Fuller Brush Man" in the May 8, 1948, issue of The Saturday Evening Post as "a thirty-six-year-old Mississippian with a persistent foot, a ready smile and a way with the ladies.  The foot, a figurative door opener, leads Bellande into approximately 100 Biloxi homes each week.  The smile, artfully guileless, establishes a mood of neighborly confidence between Al and his housewife prospect while he opens his sample case.  Bellande's way with the ladies is a compound of his own brand of small-town, deep-South chatter and a simple commercial formula known to some 7150 Fuller Brush dealers the country over as The Big Five".
About 1952, he joined his brothers, Roy P. Bellande and Mickey J. Bellande, as the advertising manager of the Bellande Beverage Company.  Alton was an outdoorsman of the first magnitude.  He thoroughly enjoyed golf, hunting, and fishing.  During the dove season, his home at 1051 Lameuse Street (now 415 Lameuse Street) was the head quarters for his many hunting companions. 
In May 1954, Al played some outstanding golf in losing in the finals of the inaugural Sunkist Country Club championship.  Giles H. Peresich won 3 and 2 in the 36-hole, two-day event.  Bellande shot a 76 and a 73, while Peresich had scores of  73-74.  Alton was selected to be the marshal for the Back Bay Fire Company in the September 1957 Firemen's Day Parade.(The Daily Herald, May 18, 1954, p. 14 and August 20, 1957, p. 10)
Alton Bellande died suddenly of a heart attack at his home on May 8, 1970, at the age of 58 years.